Mindfulness Practice for the Twenty-First Century
Welcome to Deep River Sangha,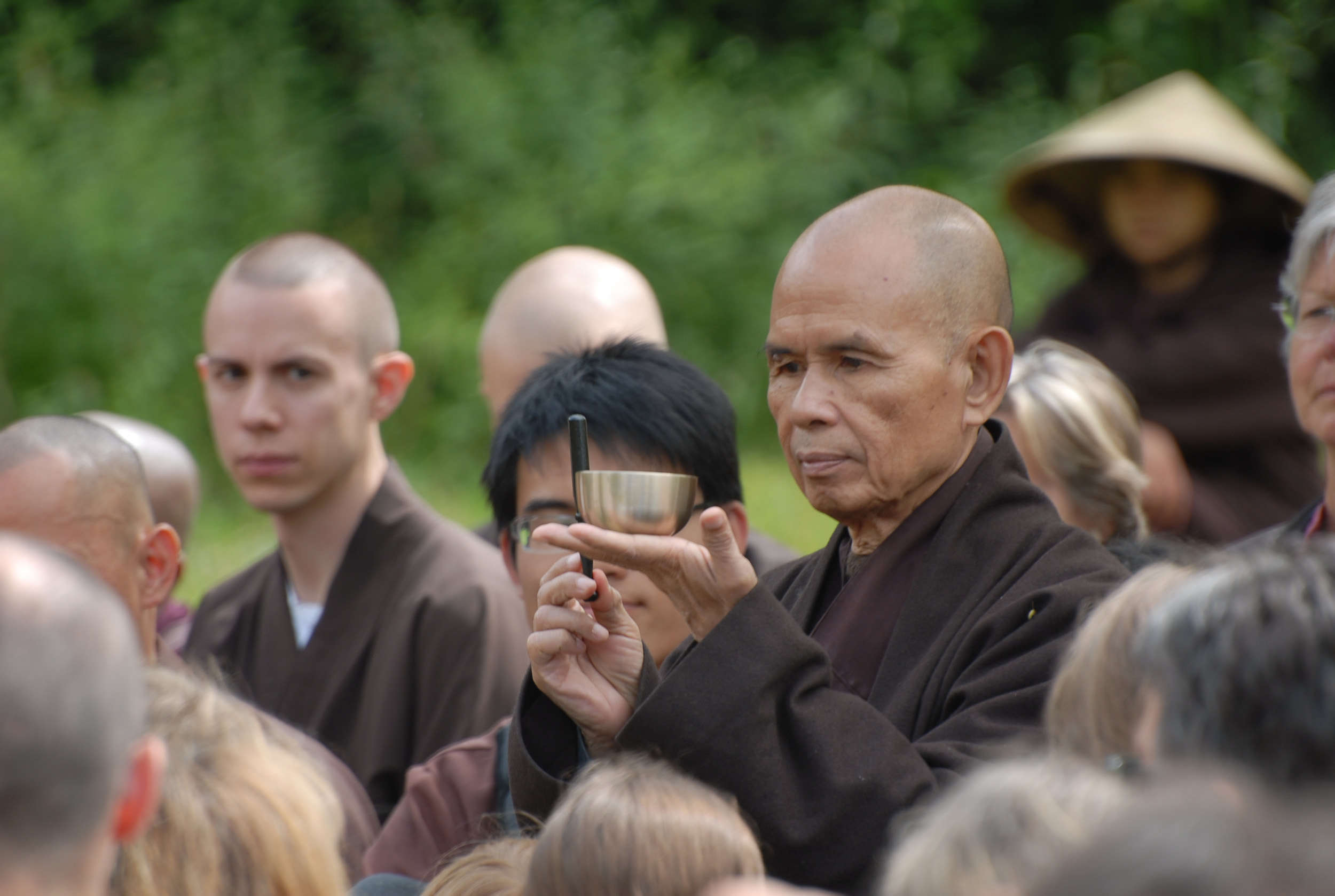 a Community of Mindful Living, founded in 1999 at the Unitarian-Universalist Church of Greensboro as part of its Adult Faith Formation program. In April, 2014, we organized as an unincorporated nonprofit association under North Carolina law.
Our sangha practices in the Plum Village tradition of the Ven. Thich Nhat Hanh.
Learning the Art of Mindful Living
Life is only available to us in the present moment. Often, however, we make ourselves unavailable to life by becoming lost in thoughts or feelings about the past or the future. Sometimes it seems our lives are running on automatic pilot, more determined by habitual reactions than by conscious choices. Unfortunately, when we are not paying attention, we can miss opportunities to experience joy and happiness or worse, we can make mistakes that cause unnecessary suffering for ourselves and others.
Fortunately, it is possible to learn to live more mindfully, creatively engaging with life and becoming more aware of what is happening within and around us. The word "Buddha" means "one who is fully awake." With Buddhist meditation practice, we can nurture and develop our own "Buddha nature" so that we do not miss our appointment with life. In this way we can discover and stay in touch with the wonderful, refreshing and healing elements in us and around us in each present moment of our lives.
When and Where We Meet
Sundays: 4:00 to 5:30 p.m. at the Unitarian-Universalist Church of Greensboro, located at 5603 Hilltop Road (near intersection with Guilford College Road) Jamestown, North Carolina.
Wednesday: 7:00 to 8:30 p.m. at New Garden Friends Meeting, 801 New Garden Road (near intersection with Friendly Avenue), Greensboro, North Carolina.
At most practices, the first hour of practice will include two periods of sitting meditation, which may either be guided or silent, and one period of walking meditation. with each session lasting 15 to 20 minutes. However, on the first Sunday and Wednesday of the month we have one longer period of silent sitting meditation lasting up to 45 minutes, followed by a shorter period of walking meditation. Each practice also includes an opportunity for mindful sharing.
To avoid interruptions and to get settled before practice begins, we ask that you please arrive 10-15 minutes before the designated starting time.
Our weekly practices are facilitated by experienced practitioners, including Susan Poulos and Bill Patterson, members of the Order of Interbeing, established in 1966 by Thich Nhat Hanh.
All Are Welcome
Visitors are always welcome, regardless of prior meditation experience. Please wear comfortable clothing and bring a cushion if you like, or you can use one of our chairs or spare cushions. Before your first visit, please enjoy reading this "Introduction for Visitors." Also, please check our online calendar for schedule changes! You will also find additional information on our FAQ page.
Our Yahoo Group and Facebook page are open to practicing members of our sangha.